Working together
How the Figure.NZ team work together
Everything on Tohu is free to use under CC-BY license
How we are organised
We have 8 functional teams:
A person can belong to multiple teams. The role they play in each team will be different.
Who is in each team?
| 💖😍💯👍🏼 | Governance 🔭 | Partners 👫 | Data 📊 | Product ⚗ | Dev 💻 | Comms 🎙 | Org 👨‍👩‍👧‍👦🏢 | Ops 🔨 |
| --- | --- | --- | --- | --- | --- | --- | --- | --- |
| Amy |   |   |   | ✅ |   |   | ✅ |   |
| Andrea |   |   | ✅ |   |   |   |   |   |
| Anoushka |   |   |   |   |   | ✅ | ✅ |   |
| Catherine |   |   |   |   |   | ✅ |   |   |
| Kimberley |   |   |   |   |   | ✅ |   |   |
| Lillian | ✅ | ✅ |   |   |   |   | ✅ |   |
| Miekes |   |   | ✅ |   |   |   |   |   |
| Nat |   |   |   | ✅ |   |   | ✅ |   |
| Ngapera | ✅ | ✅ |   |   |   |   | ✅ |   |
| Nigel |   |   |   |   | ✅ |   |   | ✅ |
| Rob |   |   |   | ✅ | ✅ |   | ✅ | ✅ |
| Robett | ✅ |   |   |   |   |   |   |   |
| Stephen | ✅ |   |   |   |   |   |   |   |
| Vic | ✅ |   |   |   |   |   |   |   |
How each team operates
Each team has a clear purpose and defines their own operating style. This covers the work they do, and also pays particular attention to how they interact with other teams and work together to achieve organisational goals.
Governance Team
Why this team exists
To make sure Figure.NZ delivers on its mission.
What we are responsible for
Agreeing the organisation's mission.
Agreeing the organisation's strategy, goals, and budget.
Monitoring progress against the strategy, goals and budget.
Ensuring the organisation's capability is fit for purpose.
Identifying and mitigating risks.
Ensuring the organisation is fiscally responsibility.
Ensuring the organisation is legally and financially compliant.
Ensuring the organisation is compliant with health and safety requirements.
Providing perspective, guidance and support to the CEO.
Development of the CEO.
How you know if we are doing a good job
The organisation has clear direction.
The organisation is in good shape financially.
The organisation is meeting its commitments.
The organisation is compliant in all areas.
The CEO feels supported and confident.
How we interface with other teams
Respond to any questions from any other teams.
Seek informal engagement with people thoughout the whole team from time to time.
Our outputs
Board minutes.
Board papers.
Annual Report submitted to the Charities Commission.
Approved annual/monthly budget.
Things we don't do
Manage or interfere with the day to day operations.
Team coordinator
Lillian.
Partners Team
Why this team exists
To secure revenue and build relationships that will help us achieve our mission. This includes helping the organisation understand the wider environment we operate in.
What we are responsible for
We identify, contact and establish relationships with new partners that could lead to revenue or outreach opportunities.
We run a simple process to track, prioritise and advance opportunities.
We negotiate and finalise contracts with confirmed partners.
We keep track of what we have committed Figure.NZ to do and ensure engagement with partners.
We communicate commitments to other teams, and in particular any requirements of them.
We engage broadly to maintain a good understanding of what other people and organisations are doing and to share what we are doing.
How you know if we are doing a good job
Revenue is growing over time measured on a 12 month rolling basis.
Our runway is at least six months long (enough that it does not cause day-to-day anxiety for anyone other than the Partners team).
We have a strong sales pipeline.
We have strong and positive relationships with our Partners, and can quickly identify and respond to any concerns.
Our team has a good understanding of our relationship with Partners and broader external conversations.
How we interface with other teams
We communicate data publishing commitments to the Data Team, ideally engaging before formal commitments are made.
We share outreach commitments and opportunities with the Communications Team, ideally engaging before formal commitments are made.
We communicate with the Product team to get guidance on how potential project ideas fit with product priorities.
New ideas for projects, partners or patrons, questions or comments are welcomed at any time in the #partners Slack channel or by putting a card in the Inbox on the Partners Trello board.
We work with the Organisation Team to understand ideal revenue targets and timelines.
Our outputs
View of sales pipeline through Solve CRM.
Records of the Companies and Contacts we interact with.
Documentation of our interactions with Partners and others in Solve CRM.
Documentation and management of committed actions with Partners.
Secure files of all Figure.NZ's contracts.
Things we don't do
We don't decide how money gets spent.
We don't make external commitments without agreement from the relevant teams.
Team coordinator
Ngapera.
Data Team
Why this team exists
We take disparate data and turn it into standardised and best-practice formats that everyone can use.
What we are responsible for
Processing data and prioritising content.
Conducting research (scoping new projects, gaining knowledge on what's available in the data landscape).
Meeting data-related agreements with partner organisations (e.g. data publishing, consulting, and workshops).
Preparing content for online news organisations to use in their stories.
Responding to internal data queries and helping the Communications Team with external queries.
Assisting in the design of Grace and testing functionalities.
Building relationships between data so people can find it easily.
Producing documentation for internal data processes.
How you know if we are doing a good job
There are no errors in content posts.
People can find the data they are looking for (shared with Product team).
We are on track with our data update timeline.
We consistently deliver data projects on time and within budget.
How we interface with other teams
Responding to data queries from the Communications team and other staff – via #data and #communications.
Raising Grace bugs – via GitHub.
Requesting Grace features – via Trello.
Providing time estimates for data projects to the Partners team.
Any feedback or suggestions for the data team are welcomed in #data at any time. Please make your comments publicly unless they are sensitive in any way, in which case private Slack or in person is welcomed. We are open to feedback at any time unless specifically stated otherwise. If you find a chart or table with a problem, please let us know immediately and we will deal with it as soon as we possibly can.
Please consider carefully and consult in #data with the data team about turnaround times before committing us to any deadlines.
Our outputs
Content posts on figure.nz
Data Roadmap (including Data Discovery list).
Data Team Documentation.
Blog posts.
Enumerations and connections across data concepts (i.e. Business Figures).
Things we don't do
Set priorities for other teams.
Design user-facing elements.
Sales.
Write code.
Team coordinator
Andrea.
Product Team
Why this team exists
We gather requirements, analyse, design, create graphics and test ideas.
What we are responsible for
Enabling people to find and use the data we have.
Gathering requirements from users.
Gathering requirements from other teams.
Designing products.
Designing graphics.
Testing ideas.
Providing a cohesive set of products.
Managing projects.
Ongoing measurement and improvement of our products.
Prioritising product development.
User research.
Artefacts that need to be maintained.
The product.
How you know if we are doing a good job
People can find the data they are looking for (shared with Data team).
Projects are delivered on time and on budget.
The Development team knows what to do.
Everyone in the organisation is clear about what is coming up and why.
People are using our products more and more.
Our analytics measure and reflect how well we are doing.
How we interface with other teams
Anyone can tell us about their problems or dreams.
Anyone can attend our weekly team meeting and ask questions.
Anyone can ask a question in any channel, mention the Product Manager (Amy) in your queries to ensure you recieve a response. She may refer to others in the Product team to help answer your question.
Work in progress is discussed in our Slack channel and we post things into #general when it is ready for team feedback.
Anyone can put a card in our product inbox, only the Product Manager can move things out of the inbox into the backlog and only a Product team member can move it out of backlog. Not doing a card has to be agreed with the person who made the card.
We seek the expertise of others when we are defining things that impact them.
Our outputs
Bug backlog (shared with Development team).
New Feature backlog.
Product map.
Product vision.
Prioritisation list (this may be a combo of bug/new feature list).
Products.
Documentation for these products.
Things we don't do
We don't make unilateral decisions without seeking input and considering needs of the other teams.
We don't tell the Development team how to build.
We don't expect the Development team to perform miracles with limited resources.
We don't neglect operational requirements in favour of new features.
Team coordinator
To be confirmed.
Development Team
Why this team exists
To implement, manage, and help design, the Figure.NZ software platform.
What are we responsible for
Software development: analysis, design, build, test, document, deploy, maintenance.
Managing the software platform (largely comprised of the Grace application and the public website at figure.nz).
Ensuring the security and data integrity of our software.
Providing technical advice.
How do you know if we are doing a good job
The Data team can perform functions involving our software efficiently and effectively.
The Product team feel sufficiently advised on technical aspects of product development.
The codebases we manage are of a high quality. This has several axes in roughly descending order of priority:

We are not the victims of a hack, nor do we suffer negative publicity in relation to our software.
Our codebases are secure, and this is verified by independent testing.
We suffer no data loss as a result of software error.
Our codebases are well tested.
Our codebases have a well understood and appropriate level of technical debt.
The general level of software defects does not significantly impact on other teams or the public.
The software allows people to peform their tasks.
Developers can add new features with relative ease.
We are regularly shipping code (improvements, bug fixes, tech debt cleanup, and anything else required).

The Product Manager is not surprised by anything relating to development.
The CTO is not unhappy with anything technical.
How we interface with other teams
For most teams, we provide ad-hoc technical advice. We can do this through the #development channel in Slack, or by being pinged in your team's channel. We're not fussy about this and we're here to help you.
Technical discussions often need to be high-bandwidth, and we are happy to jump into a call or meeting with you (although we may ask for the discussion to be later, due to the nature of our work).
We are not responsible for deciding what to build and when it is built. If discussions reveal a software requirement, we will redirect these to go through the Product team process.
On the other hand, we are responsible for the quality of the codebases we develop. Issues that we - or others - find with the quality can be raised by making a card in the Inbox on the Development board. If you think you have found an issue for us, but aren't sure about it, we'll be happy to hear from you in the #development Slack channel.
Work that is our responsibility (i.e. cards made on the Dev board), and work that comes from Product, needs to be prioritised. We collaborate on prioritisation with Product, and this is represented by the ordering of cards in the Backlog list. Note that sometimes, lower priority cards "jump the queue" if it is an intelligent use of time for this to happen.
For some specific teams, we have particular interactions:
Product team

Much of our work flows from the Product Trello board to ours, then back again when completed.
Communication with the Product Manager (Amy) regarding prioritisation.
Chats and meetings with the Product team to:

Verify requirements or get more detail on problems.
Provide advice.

Data team

Assistance with diagnosing and fixing problems with Grace that the Data team encounters.
Assistance with more efficiently carrying out Data team work, such as making direct database changes on occasion.
Discussions on software limitations and opportunities, which can flow into new Product work.
Knowing a little about how software development works can be a great help if you're unsure about something development related. We have prepared a helpful document about this.
Our outputs
Software.
Documentation.
Discussion documents/proposals regarding specific issues.
Trello cards (largely on the dev board).
An absence of trello cards (largely on the product board).
Things we don't do
We don't have an SLA, therefore we do not commit to responding to out-of-hours service incidents in a given time period.
We don't implement software changes that are under the aegis of the Product team without using their process.
Team coordinator
Nigel.
Communications Team
Why this team exists
To drive the long-term behaviour change of New Zealanders understanding our country through figures. We do this through strategic communications, including work with Figure.NZ's partners.
What are we responsible for
Setting communications goals for the organisation.
Creation of communications content, including campaigns.
Ensuring our communications are aligned with Figure.NZ's values.
Engagement on Figure.NZ's communications channels, including social media.
Handling enquiries that come through Figure.NZ's communications channels. This may involve gathering info from other team members before responding.
Managing relationships with those we've agreed to do communications work with. This is primarily Figure.NZ's partners, but may include others from time to time.
Communications and brand guidelines.
Managing advertising, including Google AdWords.
Public relations.
Measuring and analysing engagement with our communications, in line with our communications goals.
Events.
Print design and production.
How you know if we are doing a good job
Meaningful engagement with our communications increases.
More people know they can understand our country through figures, and they feel enthusiastic and confident about doing so.
We're achieving our communications goals.
How we interface with other teams
We throw ideas around in the #communications Slack channel. They're usually in their early stages, and not yet ready for feedback. When we're ready for input, we'll either post things in the #general channel, or tag the relevant people in #communications.
Sometimes communications things happen that we have limited (or no) control over – for example, a media article or social media post that uses Figure.NZ charts to present views that are different to our own. One such view could be that dogs are not great. It's part of our job to handle instances like this – if they need to be handled at all – and we need space to talk about these situations in the #communications channel. Please respect our sandpit 🏖
We're open to questions in the #communications channel, and just ask that you #respectthesandpit here also.
If you have an idea for a communications activity, put a card in the Inbox of the Communications Trello board. We'll consider all suggestions, and decide whether to implement them based on their alignment with our communications goals. If we decide not to implement them, we'll talk to you about why.
Please ping one of us if you spot a typo in any of our communications. Typos keep us up at night.
Before we make any promises to our partners, we talk to anyone who may be affected by new communications commitments.
Specific interactions with other teams:
Our outputs
Communications strategy.
Communications content.
Support to partners.
Media content.
Print collateral.
Ads.
Events.
Things we don't do/have
Communications activities that don't align with our communications goals.
Provide commentary on or interpretation of figures.
Power over how Figure.NZ content is used once it's out in the world.
Team coordinator
Noush.
Organisation Team
Why this team exists
We deliver a delightful working environment and make sure our systems and tools support us in getting the job done. This includes facilitating the objectives setting process, where the whole team defines our annual organisation goals, and overseeing risk and compliance for Figure.NZ.
What we are responsible for
We review and revise our high level organisational goals and how we measure our impact in relation to them.
We facilitate the annual objectives setting process and regular reviews of the priorities and goals with the team.
We work with other teams to ensure the actions and responsibilities that arise from the team objectives process are clear and well-structured.
We share priorities, expected outcomes, and progress with the board.
We manage budget and cashflow.
We document how things work in the organisation.
We establish and maintain our health, safety and wellbeing processes.
We run processes to ensure we've documented risks on our register and are addressing them.
We run team processes including regular one-on-one sessions, annual reviews, professional development, and monitoring and addressing team satisfaction.
We set and administer our team payroll and leave systems, job descriptions and employment contracts.
We manage our physical and virtual facilities, including places, equipment and software systems.
We maintain Tohu content.
How you know if we are doing a good job
Team members feel happy and well taken care of, with the equipment and systems they need to be effective and productive.
There is a common sense of purpose and direction amongst the organisation, and we know if we are winning.
The team objectives and actions are clearly documented.
The board is informed.
How we interface with other teams
We facilitate an annual objectives setting process with everyone in the team, and monthly sessions to discuss our progress towards those objectives.
We have regular sessions with individuals for one-on-one meetings and other regular engagement to check in on how people are doing.
We are happy to have input in the #organisation Slack channel or on the Organisation Trello board at any time.
Our outputs
Clear organisational goals and measures of success documented.
Documented processes for how the organisation runs.
Internal systems documentation, including setup guides.
A published health, safety, and wellbeing policy.
Risk and incident registers.
Board reports.
Documentation required for Charities Commission compliance.
Documentation required for accounting standards and fiscal responsibility.
Tohu content.
Things we don't do
We don't dictate team priorities.
We don't dictate organisational priorities.
We aren't solely responsible for day-to-day running of physical spaces.
Team coordinator
Lillian.
Operations Team
Why this team exists
To create, manage, and ensure the smooth and secure operation of, the technical infrastructure for the Figure.NZ platform.
What are we responsible for
The technical infrastructure that hosts figure.nz, Grace, Tohu, and any other software we may produce, particularly:

Platform security.
Preservation of service.

Aspects of information security for Figure.NZ not covered by the Organisation team:

Management of operations-related secrets.
Incident response.

Providing advice to ensure the scalable, smooth running of Figure.NZ-produced software.
How do you know if we are doing a good job
The public can use figure.nz at any time, with minimal technical problems caused by Figure.NZ
The data team can use Grace at any time, with minimal technical problems caused by Figure.NZ
We respond quickly and appropriately to failures of service.
Confidential information we hold (secrets etc), remains secret.
We are not the victims of a hack, nor do we suffer negative publicity in relation to our infrastructure.
Databases and data stores we run maintain their integrity.
Our infrastructure has a well understood and appropriate level of technical debt.
The monthly cost of running our services is predictable and not overly excessive.
The Development team feels they have the support of the Operations team in the design and timely provisioning of resources to run Figure.NZ software.
The CTO is not unhappy with anything technical.
Our team is considered around the organisation to be friendly, approachable, inclusive, and supportive.
How we interface with other teams
We may be reached for questions through the #operations channel in Slack, or by being pinged in your team's channel. We're not fussy about this and we're here to help you.
The #operations channel contains secrets, and sometimes discussion will often be about issues with our systems, occasionally serious ones. It is important that information from #operations is not reported publicly. Do not share anything from #operations with anyone outside Figure.NZ.
Technical discussions often need to be high-bandwidth, and we are happy to jump into a call or meeting with you (although we may ask for the discussion to be later, due to the nature of our work).
We are not responsible for developing software. If discussion reveals a software requirement or defect, we will assist you in ensuring you know what to do next to get the problem resolved, which will normally mean having a discussion with the Product team, creating an Issue, or creating a card in the Product team board.
We are responsible for, and highly interested in, anything to do with the security of our software (Grace, figure.nz etc.). If you think you have found a security vulnerability, please talk to someone in the team right away.
We work closely with the Development team, to ensure the smooth and secure operation of Figure.NZ software, and to ensure they have what they need to deliver software. There are no formal processes for this interaction yet because the teams are both small.
The operations team may sometimes go into incident response mode, to deal with a security problem or outage. Incident response happens in the #operations Slack channel. People from other teams may need to join and take part in the channel for the purposes of resolving the incident. During this time, we will report status or conclusions in the #general channel.
Our outputs
Provisioned infrastructure (servers and other things required to run our software).
Documentation.
Discussion documents/proposals regarding specific issues.
Trello cards on the Operations board.
Things we don't do
We don't have the budget or staff for an SLA, so outage recovery is limited to best effort during business hours.
We do not develop Grace, figure.nz, Tohu, or other software which is the responsibility of the Development team.
We do not provide technical support for in-office equipment, or problems with people's computers (this responsibility lies with the Organisation team).
We do not provide information security support or training for staff (this responsibility lies with the Organisation team).
Team coordinator
Nigel.
Raise a paddle
Also known as "what to do when something goes wrong".
Sometimes, you'll get that uneasy feeling in the pit of your stomach. Something is going wrong. You've noticed something, or you're in too deep and if you don't get help soon, you'll be in trouble.
Don't worry, we've got a process for that.
For some background, you can read Lillian's blog post, but the main thing you need to know is it's called "Raising a paddle".
Get ready
Here's what you need to do:
Set up an alert word in Slack for 'paddle'. To do this:
Open the Slack preferences
choose 'Notification Settings'
Click to open the Notification Settings panel
Scroll down to find 'Highlight Words'
Add 'paddle'
Then, you're all ready for when you or someone else needs help. So, how does that work?
Raise your paddle
When you notice something going wrong or you're badly out of your depth, in Slack, say "I'm raising a paddle" and tell everyone why.
What happens next?
If you see someone raise a paddle, you're expected to stop immediately and listen and help. This is an all-hands on deck, pay attention right now situation. As a group, we'll decide what immediate action needs to be taken, and form a plan for next steps.
What if it's not as big as that?
Sometimes, you notice something that isn't quite going right but it's not an "OH SHIT DROP EVERYTHING" raise-a-paddle moment. It's the quiet, uncomfortable sensation when you see something and you start to worry. You think "Am I the only one who sees it?". You fret about what will happen in the future if it's not fixed.
Often it's bad process built up over time that suddenly seems to be a thorn in our side. Other times it's an impromptu process that's been put in place to test something out in a hurry, and you can just see how it's going to go wrong as we grow.
So, what do you do about it?
Don't stay quiet. If you're worried about it, we want to know.

Write out your thoughts. Create a Slack post, and tell us:

What the problem is
Any background information you think will help us see it too
Why it's making you worried
What, if any, solutions you can see to mitigate it both short and long-term. You don't have to have solutions, by the way. But we want to know about your worries.

Post it into Slack to share with the team.
We won't always be able to fix everything right away, but what we can do is take a look at something and decide to act in a way that will cause the least pain in the future, whilst still allowing us to get stuff done.
Once it's been shared in Slack, we'll create a Trello card with any actions we need to take for it.
Health and safety policy
Figure.NZ cares about the physical, mental, and emotional health and safety of our team and our guests. We want you to be safe and thrive in our workplace.
The safest environment is created when we're all aware of our surroundings and our behaviour. Everyone is responsible for looking out for each other, identifying and managing risks, and making sure we have a safe and healthy working environment.
These are our health and safety policies. Everyone in our team reads them; if you're new, this is part of your induction.
Physical health and safety
We keep a register of the risks and hazards in our Shortland St office. If you notice a hazard, you are responsible for adding it to the register. Of course, we're a remote-first team, so that means we could be working from anywhere. If you're not in the office, you're responsible for being super-duper careful and keeping safe. This includes making sure you take plenty of breaks as well.
We're here to help you and we care about you being comfortable. Tell us what you need to accommodate your physical needs, from special food to chairs to office temperature. If you're a bit shy at first, no problem. You can tell someone later when you're more comfortable. We'll do everything we can to make it happen. If you need to go to medical appointments, that's no problem; our hours are flexible.m
Mental and emotional health and safety
We care about your mental and emotional health and safety just as much as we care about your physical health and safety. We know that society can stigmatise mental health and that can make it hard to talk about, so you absolutely don't have to tell us. If you choose to, we will be supportive. We will not judge. We will do everything we can to support you, same as we would with physical health and safety.
We'll work with you to build a strategy to keep you safe and supported without the need for you to tell everyone the details. We're used to working to avoid or mitigate triggers. When things are hard, we try to create a supportive environment. Regardless of whether you've disclosed anything, we'll be proactive about checking in and seeing what's going well and what's not.
Sometimes, it can be hard to tell when someone needs space or if they're really struggling and what type of help is needed. As a small team, everyone is always really busy and we try and strike a balance between productivity and supportiveness. However, we will always make space if you let us know that you're drowning, not swimming 🏊🏽.
We are human. We will all make mistakes and say or do things that may cause distress even when we're doing our best to get it right. Talk to someone else in the team if someone's said something upsetting or offensive. They'll listen, and help you figure out the best way to manage it.
If anyone does or says anything that makes you uncomfortable and particularly if it makes you feel unsafe, whether it's a team member, a visitor, one of our partners, or a stranger, please raise it with the person you feel safest talking to. Then, let Lillian or Ngapera know. If you want to talk to someone else, Vic or Stephen from our board also welcome hearing from you.
Your responsibilities
I've seen something wrong
We are all responsible for health and safety in the office. This means:
If you see something amiss, report it to Ngapera or raise a paddle in Slack.
Then, make sure you fix it, minimise the risk, or isolate it.
This includes everything from chairs or keyboards causing you pain, to spills, to bullying.
Office hazards
You can (and should) read the hazard register to find out where the dangerous spots in our office are. Of course, if you're working from home, you'll need to 👀 look around 👀 and identify all the hazards there so you keep yourself safe.
I'm not feeling well
If you're feeling unwell 😷🤒, and especially if you might be infectious, stay home. We don't want germs to spread. If you feel well enough to work, then work from home. If you don't, rest up and get better. Your health is the most important thing.
There's been an accident
Any accidents (or serious near-misses) must be recorded in the Accident Register. The first aid kit is in the kitchen pantry.
Our first aiders are:
Nat Dudley (St. John Level 2, 2017-11-06)
Rob Isaac (St. John Level 2, 2017-11-06)
Serious incidents must be reported to Worksafe by Ngapera.
Someone's asking me for help
Sometimes you're busy, or don't feel like you're equipped or have enough emotional capacity to help someone else. That's OK. Don't leave them hanging, though. Help them find someone else to talk to, either in person, or via Slack.
Be considerate
Not everyone is comfortable talking about all topics, and not always in an open office. Think about everyone around you before you start speaking. By the same token, not everyone feels comfortable asking for help — check in with your team mates if you're worried.
When you're planning an event or a meeting, think about other people's needs. Some people need more prep time, to be properly hydrated, are temperature or light-sensitive, or need to monitor their energy levels. Make sure what you're planning works for all the team by asking them discreetly if they are comfortable with this, and by checking with everyone that they have what they need. This goes for guests too!
Who this applies to
This policy applies to all of us. New starters will be provided with a link to read when they join our team. This includes contractors.
Sometimes we also have short-term visitors and tradespeople come to our office. Their health and safety is important too. Point them to the version of our policy on the wall to read, or give them the highlights verbally. Make sure you also point out any hazards.
Our risk register
Why we have a risk register
Being exposed to risks is a normal part of doing business. Managing our risks well is important to Figure.NZ, and we consider it a core activity.
By maintaining a risk register and processes to identify and mitigate risks we:
Provide a secure and delightful working environment for our team.
Equip our board with all they need to help us navigate risks as we embrace opportunities.
Give our partners confidence in our sustainability and focus.
Make sure that people who use Figure.NZ can continue to rely on us.
What is included in the risk register
We have identified 7 areas of risk:
Team
Technology
Legal
Money
Relationships
Reputation
Physical
Each identified risk is assigned the following:
Owner: Who is responsible for the current state of the risk.
Likelihood: 1 (Rare), 2 (Unlikely), 3 (Possible), 4 (Likely), 5 (Almost certain).
Consequence: 1 (Insignificant), 2 (Minor), 3 (Moderate), 4 (Major), 5 (Extreme).
Mitigation: Action/s we will take to reduce the seriousness or existence of the risk.
Progress: Where we are up to in taking the mitigation action/s.
How things are added to or addressed in the risk register
3 notifications have been set up in our Slack #announcements channel:
1st of the month: "Please review and update the risk register in the next 7 days".
5th of the month: "Reminder you have 2 days left to update the risk register".
7th of the month: "Lillian and Ngapera, the risk register is ready to be reviewed".
Significant information from the register is then highlighted for the board.
Follow these steps to review and update the risk register:
Click the link in the Slack notifications to access the register.
Look down the column labeled "Owner" and identify all the risks you're assigned to. Please check this every time, as there may be new risks with your name next to them. If you're assigned to a risk you think would be better suited to someone else, please raise this directly with Lillian.
Review in detail all the cells for each risk you're assigned to, engaging with any other team members you need input from. So this document doesn't get overwhelming, think about how items could be reworded to be clearer and shorter. Note that the "Progress" column should be the latest summary of progress, not an ongoing list of all actions taken.
When you've finished updating the information about a risk, enter the date you did the review in the "Reviewed" column.
Scan the rest of the register and think about whether there are any new risks that should be added. If yes, please add a new row and fill out the details you can, including who it should be assigned to. If you don't know all the details of a new risk, please raise this with Lillian.
If there are any risks you think need more attention than we're currently planning to give them, please highlight this cell in red. Lillian or Ngapera will then talk with you about this.
Sharing widely and confidentiality
While we have a policy of being transparent within the team there are times when we are unable to share information until a certain date.
It is generally fine to talk about any project within Slack or internally to the team. However, until these projects are announced publicly by Lillian or on our marketing channels, please do not talk about which clients we have or about to have.
This is a super doooooper important part.
The confidentiality part of our employment agreement applies here.
How do we communicate with each other?
Each of us has a different communication style. To help understand how we communicate, we do a communication style questionnaire. This allows us to reflect, and our team to work together to find good ways to communicate.
Communication style questionnaire
Planning/Research
How do I do dreaming?
How do I prefer to work on new ideas?
How do I like to ask for input on ideas?
General office work
How do I respond to interruptions?
What's the best way to ask me for feedback?
How do I prepare for meetings?
What's the best way to give me feedback on something I've suggested?
What things do I find challenging?
What's my day-to-day Slack style?
What's my style when giving feedback?
How does information need to be structured for me to get the most out of it? (Context etc, ideas, purpose etc)
What's the best way to get an update on work?
What's the best way to get hold of me in a hurry?
Writing
How do I write?
What sort of editing do I prefer and when?
When things go wrong
How do I express frustration?
What's the best way to check in on me if you're concerned?
What's the best way to provide help?
Lillian's communication style
Planning/Research
How do you do dreaming?
I like to dream by myself. This could be sitting at home looking at the trees, or it could be sitting down with a stack of A3 paper and some black ink pens and just letting my mind wander without interruption. I don't like to share my dreams before I'm ready.
How do you prefer to work on new ideas?
I follow my nose and sense who I want to involve in different parts of my thinking at different stages in the process, and then often informally pull them into a conversation. This could be internal or external to the team. It may feel like I'm excluding people because I seemingly randomly pull in different people rather than formally sharing, but it's really important for me to be creative with my process and not feel I have to follow a set path.
How do you like to ask for input on ideas?
I tend to ask without warning when I've suddenly realised you're the person I next need input from. I realise this can be jarring for others' style preferences and interrupts people so I do try not to do this, but totes tend to fail when I get excited about the idea which, let's face it, is always 🙃. I'm very happy for you to remind me that this makes it harder for you to help me.
General office work
How do I respond to interruptions?
Completely depends what I'm working on. If I'm concentrating on something important or complex I find it really frustrating to be interrupted, and if I'm not then I'm really happy to be pulled into informal or formal conversations on the fly. The best way to know is to ask and clarify the importance, for example "Lillian, are you interruptable for something fun?" or "Lillian, it'd be useful to get your input on something sooner rather than later, do you have time?". Given my role, I often feel like I need to let myself be interrupted so you know I'm always here for you, so unless you ask me it's unlikely to be clear if I'm actually in a good place for being interrupted or not.
What's the best way to ask me for feedback?
Ask me directly with context and desired time frame. For example – whether you just want me to sense-check something you've done and need it that day, or if it's in general you need more feedback from me in which case booking in a session so my brain can focus on you is best.
How do I prepare for meetings?
I don't really prepare for meetings, I just give my full attention in the moment and ask lots of questions to get up to speed.
What's the best way to give me feedback on something I've suggested?
Be direct in any format and at any time (i.e. fine to reflect and come back to me if you weren't able to do it in the moment). I love feedback, I love getting robust thinking by working together and having things pointed out to me that I can't see.
What things do I find challenging?
I'm a very active listener so I find it really hard when it isn't clear to me that you're just needing to talk to think (in which case I'll dial down my active listening a few notches), rather than talking to convey something specifically to me. I'm totally fine with either, but it's just good to know the context up front.
What's my day-to-day Slack style?
Haphazard. Genuine. Open. Emotive.
My frequency of engagement changes massively depending on what my day is like. I try and read everything at some point, but it's not always near the time it was written. I will sometimes write things while I'm on the run without having read everything that's come before it. I like to be completely me in how I communicate, so I often share personal feelings or thoughts and very often tell the team how much I love them, because it's true 😍.
What's my style when giving feedback?
Sometimes I really struggle giving feedback when I'm trying to juggle how I think someone will emotionally receive what I want to convey. I tend to ask questions to get a better understanding and to try and come to conclusions together. If you want direct feedback on something I am very happy to give it, just make it clear to me that direct is what you're after. I find it a lot easier to give feedback in person or verbally than to find time to write it up.
How does information need to be structured for you to get the most out of it? Think about ideas, context, purpose, detail etc.
I need to be anchored in what space the topic sits first, and why we're talking about it - but aside from that I'm largely sweet with however someone wants to talk through something.
What's the best way to get an update on my work?
Ask me directly, either in person or in Slack, and be clear about what you're asking. For example asking 'how's it going with x' is harder for me because I don't know if it's just a friendly question out of curiosity or if there's a pressing need for you to know. The most useful way to get effective engagement from me is to help me understand if you need something and especially if I'm blocking you, as then I will prioritise answering as best I can.
What's the best way to get hold of me in a hurry?
If I'm in the same place just ask me, if I'm not then text me on +64 21 234 2374.
Writing
How do I write?
Haphazardly. Usually by throwing down lots of ideas and words in a non-linear fashion, then going back to it as I have more ideas until I suddenly feel like it's all come together in my head and I can sit down get it out. It can take me ages to express early thinking in writing clearly.
What sort of editing do I need and when?
Once I share something I'm happy for editing of any sort – structure, style, grammar, content, and I'm happy for you to take the pen and just make changes directly.
When things go wrong
How do I express frustration?
I often don't, for 2 reasons: my style tends to be to process my frustration internally and think about how to solve things so it doesn't happen again; and also I feel like given the power inherent in my role I need to be very aware of the impact my frustration could have on someone else.
What's the best way to check in on me if you're concerned?
Just ask me directly in any form – in person, in Slack, whatever's at hand.
What's the best way to provide help?
Written or verbal words give me the biggest sense of being cared for and appreciated. Often it's hard to give me practical help, but it's always nice to be asked.
Amy's communication style
You can read Amy's communication style on Slack.
Annemieke's communication style
You can read Annemieke's communication style on Slack.
Anoushka's communication style
Planning/Research
How do you do dreaming?
It's a real mish-mash for me. I find conversation a good dream starter – I'm not a fan of small talk, so the deeper a conversation goes the more I enjoy it, and the more it expands my thinking. I also like to dream by myself, usually while doing something else like exercising or listening to music (including while out at gigs and such).
Once I have a few thoughts floating around, I'll start writing things down – pen and paper all the way at this stage. I think in words, not in pictures.
How do you prefer to work on new ideas?
My favourite place to start is research – I need to know what's already out there.
Once I get to the sharing ideas stage, I'm more creative if I feel like it's okay to ask lots of questions, not know answers, and be on a level playing field with everyone else.
Coming up with new ideas on the spot is not a strength of mine, and it can stress me out. I like to have plenty of time to play with, so I often get started on creative projects early.
How do you like to ask for input on ideas?
Pretty directly. Once I'm ready for feedback I'll ask, and it'll probably be more of a chat than anything formal. Ideally it'd be in person or on a video call so I can read tone and body language.
General office work
How do I respond to interruptions?
I've become quite accustomed to being interrupted all the time over the last few years, but I still don't really like it. That said, I do like to be helpful – so if I can stop what I'm doing I will. If not, I'll ask if I can come back to you later.
What's the best way to ask me for feedback?
I'm happy to give you my thoughts off the cuff, but if you want well thought-out feedback I'll need some advance warning.
Either way, I'll probably ask lots of questions to make sure I understand what we're talking about and that I'm being helpful.
If it's feedback on a situation I've just been in (meetings, presentations etc), I probably won't have anything useful to say right away. I take awhile (usually at least overnight) to process experiences, especially if I've found them particularly affecting.
How do I prepare for meetings?
As thoroughly as I can with the time I have – I like to make sure I'm informed about the topic or situation. If I have time, I'll prepare; if I don't, I won't.
What's the best way to give me feedback on something I've suggested?
I like honesty, but I also like kindness. No need to dance around the truth (it frustrates me when people do) – as long as you're able to put yourself in my shoes, and keep that in mind while giving feedback, we're a-okay.
What things do I find challenging?
Coming up with ideas on the spot
Having to do things at short notice
Chaotic situations
Being the centre of attention
Worrying that my feedback isn't being taken as I intend it to be
Getting a read on how people are feeling without seeing their faces or hearing their voices.
What's my day-to-day Slack style?
I can range from chatty to quiet depending on my mood.
Being in Wellington, I find Slack to be an effective way of feeling connected to the team. From that perspective, chat and banter are important to me.
I like emoji a lot – they're a nice shorthand for feelings that can be hard to express in a typed form, and I find them useful for lightening the mood when the need arises.
I prefer to switch off out of hours, so you won't usually hear much from me on Slack in the evenings and weekends.
(I also really like threads 🙃)
What's my style when giving feedback?
I try to give feedback as I like to receive it, with honesty and care. I'll be more or less direct depending on the person and what I sense they want or need.
If I sense my feedback is not being received well, I'll tone down what I'm saying… sometimes to the point of not saying things I really should say. I'm working on how to balance that.
How does information need to be structured for you to get the most out of it? Think about ideas, context, purpose, detail etc.
My preference is to start with context (background info, factors to consider), then understand the purpose (what we're doing and why). Once I know those things, I'm ready to talk about ideas.
What's the best way to get an update on my work?
Ask me on Slack, in the relevant channel or DM. As long as I'm clear on what you need to know, you should get a useful answer.
What's the best way to get hold of me in a hurry?
Text me – my number's in my Slack profile. I'm not a fan of (and probably won't answer) unexpected phone calls.
Writing
How do I write?
If I know my topic and my audience, quickly.
If not, I'll spend time researching and assembling my thoughts, jotting things down as they start to make sense to me. Then I cut, paste, shape, and rewrite until it feels coherent.
Whenever possible I like to write a draft and come back to it later – new ideas will often pop into my head in the meantime.
What sort of editing do I need and when?
I still feel quite fresh to the data and tech spaces, so input from others on meaning, tone, and audience appropriateness are particularly helpful for me.
I usually check in with the team about these things before I start writing, and then ask for more detail-focused editing once I've got a decent draft.
When things go wrong
How do I express frustration?
I go quiet. I'm about as transparent as a window, so it's usually obvious (online or not). A bit of time to think it over and decide how I want to respond usually does the trick.
What's the best way to check in on me if you're concerned?
During work times, a Slack DM; outside work times, text me. If we're in person, ask. As noted above, unexpected phone calls are not my jam.
What's the best way to provide help?
It depends on the situation – ask me what I need and I'll tell you. But generally, a message along the lines of 'are you okay?' or 'can I help?' is the dream.
Catherine's communication style
Planning/Research
How do you do dreaming?
For me, dreaming is something that happens organically, without structure. New ideas will come to me at the most inconvenient moments, often while I'm busy doing other unrelated tasks, so it's a matter of capturing those thoughts before they escape. I always feel like the greatest progress is made when I can see the words in front of me, rather than dancing around in my head.
How do you prefer to work on new ideas?
Pen and paper works for first thoughts, migrating to a keyboard as ideas gain traction and there's the need to gather research or background information. I always do my research, approaching the idea from several angles and gathering details. I'll often keep ideas to myself until I have at least thought them through a couple of times to make sure they are relevant. In a team environment, I'm comfortable putting forward my thoughts either in verbal or written form.
How do you like to ask for input on ideas?
I'm likely to ask directly, framing the request by giving some indication of the progress made so far. I always appreciate others giving their point of view and love a good discussion.
General office work
How do I respond to interruptions?
Generally interruptions don't bother me at all, and I'm happy to stop what I'm doing and assist. If I'm working on a task and prefer not to be interrupted, I'll indicate this via Slack, or let you know.
What's the best way to ask me for feedback?
I'm flexible. If it's just a brief request, then I'm happy to provide feedback asap. However, if it's more complicated and requires more thought, then a longer turnaround time is appreciated. It's always good to know when you need the feedback by too, so I can work to your schedule as well as my own.
How do I prepare for meetings?
My preparation is dictated by the type and scale of the meeting, but I'll always give some advance thought to what's going to be discussed, who's going to be present, and note any points of my own. If I'm meeting someone new, then I'll prepare by learning about them and their organisation, in order to help understand their needs. I'm equally comfortable with an impromptu chat to discuss an issue or topic that has come up and needs to be attended to.
What's the best way to give me feedback on something I've suggested?
I'm receptive to feedback in any form; verbal is great for general feedback and tone or quick changes, but then written is more suitable if there are more specific changes to make. If I understand your communication style, then I'll take this into account when interpreting your feedback! Clear and concise feedback is really helpful too and makes it easier to action.
What things do I find challenging?
Sharing my ideas when they're in an early stage and I haven't thought every little detail through is a bit tricky for me, and realising that sometimes this is OK and it's all part of the process.
What's my day-to-day Slack style?
My Slack style changes depending on what type of work I'm doing; I'll be a bit quieter when engrossed in a particular task, preferring to engage when I've made progress or completed it. Working remotely, it's nice to turn to Slack for some friendly office chat when the time is right.
What's my style when giving feedback?
Always polite and professional, taking into account the attributes and personality of the feedback recipient. I also like to take the time to explain the 'why' of any changes or alterations, so they have purpose and meaning.
How does information need to be structured for you to get the most out of it? Think about ideas, context, purpose, detail etc.
In most cases, some background and context helps me to quickly understand where things are at. From there it's helpful to know where we're heading, and then we can fill in the details and ideas. Knowing the purpose is key to understanding.
What's the best way to get an update on my work?
Just ask, and I'll respond. If it's urgent, let me know that too and I'll get right on to it.
What's the best way to get hold of me in a hurry?
A text message will get my attention - my number's in my Slack profile.
Writing
How do I write?
How I write totally depends on the situation, the information or message being conveyed, and the audience. Regardless, I will start with a list of words, thoughts, quotes, statements, and then start to formulate the body of the text. I tend to jump around writing the body of the text, writing as the words come to mind, and then work on refining and organising them on the page.
What sort of editing do I need and when?
I'm open to constructive feedback and appreciate the time taken to give it. It's really important to me that what I'm writing is understood by the audience, and so the thoughts of others are taken into consideration if it's going to improve the message.
When things go wrong
How do I express frustration?
In the professional setting I'm unlikely to outwardly express frustration. I'm more likely to want to discuss the issue and come to a solution, either on the spot or after a while to think.
What's the best way to check in on me if you're concerned?
A quick message via text or DM would be awesome.
What's the best way to provide help?
Ask and I'll let you know – offers are always appreciated.
Kimberley's communication style
You can read Kimberley's communication style on Slack.
Nat's communication style
Planning/Research
How do you do dreaming?
I need quiet time and space. It'll take me a while to wind down and empty my brain from all the smaller things that have been occupying my brain, and then start to ponder. I'll normally go away and read a bunch of articles on new tech or social changes to help form how I'm thinking, and then start to draw those together and overlay them with what we do. Sometimes, I'll want to bounce off one or two other people to shape or sound something out that touches on their expertise, but I'll normally then go away and dive deep again.
I prefer to not be doing other tasks simultaneously as I've lost the knack of getting into and out of that space quickly.
How do you prefer to work on new ideas?
At the beginning of the product cycle, I like to get an understanding of the moving pieces first. What are we trying to achieve and for whom? I'll then read technical docs and standards. I'll try to get an understanding of the current platform and issues from Andrea and devs. I'll take these pieces away and turn them over in my head, mushing them against the goal we want to achieve. I'll ask more questions - of Rob, of dev, of data. They'll probably seem like strange questions, but they'll help to resolve the muddle and bring clarity. I'll probably feel frustrated and worried and a bit lost, and go down several routes that are dead ends before finding the right one. As the path becomes clearer, I'll start to test out concepts with other members of the team - with product, dev, data etc.
The same roughly applies for non-product work. I need to start by understanding the scope of the work - the goals and audience. I'll then push around pieces until a potential structure or approach presents itself. Often, this will be several iterations in.
How do you like to ask for input on ideas?
I tend to ask for guidance at the start the clarify the inputs and set the right framework. I then ask for specific domain expertise as I go through the exploration phase. I'll normally specify that I need help on a specific aspect of a problem. I'll then ask for wider verbal feedback from people as I start to talk through ideas, and finally feedback on more formalised written explanations.
I can get frustrated at general brainstorming unless there's a clear purpose because it can feel very aimless to me.
General office work
How do I respond to interruptions?
It depends what I'm working on — if it's something where I'm holding a lot of context in my head, I have space to answer quick, low-cognitive load questions, like availability for meetings or if somethings completed. But if it's a more complex question that requires me to stop what I'm doing and think about an answer, I get agitated because I don't want to let you down, but also I don't want to lose what's in my head because it'll take me a long time to get it back. If it's something that's not urgent, or that can't be answered quickly, it's better to ping me via Slack than verbally interrupt me.
Of course, if it's urgent, I'll happily ditch what I'm doing. I may ask for a couple of mins to round out a thought, however.
What's the best way to ask me for feedback?
Taking into account the interruptions thing, the best way is to ping me a message in Slack, either privately or in the relevant channel. Let me know what type of feedback you are looking for. Do you want to test out an idea or bounce concepts around, and need a safe space to do that? Is your idea more fully formed and you want to critique it or probe it for flaws? Do you need help identifying a technical solution? Is it administrative, like where something should live in one of our platforms? Do you need proof-reading for spelling and grammar?
It doesn't need to be a fully-formed request, but giving me an idea of what type of help you need makes sure that I can pitch it correctly and be prepared, especially if you want to book in a meeting to discuss it. Otherwise, I tend to feel like I'm flailing in the dark, trying to understand whether you want help with your idea or whether you're asking me about a tool to implement it or something else. This can trigger feelings of anxiety because I don't want to let you down!
It's also useful if you can let me know when you need the help by, and what form—writing or a talky or an in-person meeting, for example.
How do I prepare for meetings?
If your meeting is a working session that requires feedback or digging into a specific topic, it's really helpful for me to know roughly what areas we'll be looking at before the meeting. Ideally, at least the day before. This means I can tuck it away in the back of my head and start to think about the topic and load up all the context into my head. Otherwise, the first 10-15 minutes of the meeting, I'll seem distracted because I'm trying to rapidly load this information, and you'll often find that later that day, or the next day, I'll come back to you with important feedback once enough context has loaded to assess your question.
If it's just a catch up or an initial briefing, then just booking it in is ka pai.
What's the best way to give me feedback on something I've suggested?
I've worked in environments where questions are used as weapons to tear down ideas. I'm working to unlearn my responses to that, but in the meantime, there's some techniques that help.
It's super helpful if you can start by giving me an indication of whether, overall, you think the piece you're giving feedback on is broadly in the right or wrong direction. If it's in the wrong direction, I can align my expectations, and seek to understand where I've misunderstood the requirements, and how that's impacted the results. If it's in the right direction, then I'm in a good mental place to hear specific feedback on targeted improvements. There are some small things, like prefacing questioning with 'I'm trying to understand a few things, could you clarify…" that seem to disproportionately help also.
What things do I find challenging?
I'm not a fan of surprises. They're very anxiety inducing for me. Ditto for confrontations.
I'm also partially deaf, so if the room is noisy, I find verbal discussion quite difficult.
In general, I find it really difficult to concentrate in a noisy environment.
What's my day-to-day Slack style?
A lot of emoji and a lot of abbreviations, but also a lot of sarcasm. I am not being serious most of the time in general conversation.
When it switches to discussion on a technical or serious topic, it tends to activate a different part of my brain which changes my Slack style. It becomes more verbose, and I use far less emoji. This is not a sign that I am upset or angry or anything. It's just a sign that I'm focussing on the topic at hand. I tend towards reflective and quite in-depth explanations that draw on expertise either in design or other topics. That part of my brain is super bad at detecting tone, so totally DM me and tell me to shut up if you need to.
What's my style when giving feedback?
This really, really depends on the type of feedback someone has asked for. Typically, though, I'll ask a lot of questions to try and understand what type of feedback they need, and then their thought process and goals. I know this can be a bit frustrating, but otherwise the feedback I give tends to be superficial and not as useful.
If it's technical feedback, it tends to be direct and to the point. If it's about ideas, it tends to be more exploratory, because it's hard to communicate ideas and intentions, especially in early phases.
How does information need to be structured for you to get the most out of it? Think about ideas, context, purpose, detail etc.
I am so lost without context. I need the structure and background to hang ideas on, otherwise I forget things (or tune out, I know, it's bad, but I have a terrible attention span). For me, the context includes the purpose too—motivation is so important when understanding information.
Once I have that background, I can fill in detail quite quickly.
What's the best way to get an update on my work?
Ping me on Slack and let me know how much detail you need and by when.
What's the best way to get hold of me in a hurry?
I am 100% not a fan of phone calls, but if it's a technical emergency (site is offline), or a human emergency (I care about our team!) call me. I'm not sharing my number here for privacy reasons, but it's on my Slack profile.
Otherwise, DM me in Slack, and prefix your message with 'Important' or 'Urgent'. I tend to see most notifications as they come through unless it's after 10 PM and that will get me to take notice (unless I'm genuinely unavailable)
Writing
How do I write?
I tend to start by jotting down a bullet list of ideas and half-formed sentences. Typically, I add to this over a day or two, and will end up mulling over it while walking to and from work, or driving the car. When I eventually start writing, it'll be these thoughts that form the basis of what I write, pulling from the bullet list for structure.
Once I start, I tend to write in a linear fashion, with the possible exception of an introduction, and briefly jotting down concepts I think link in further down the piece.
I have a very different style for technical writing and blog writing.
What sort of editing do I need and when?
If I share an early/first draft, I generally want feedback on the ideas and structure of the piece. Does it make sense? Does it flow? Is the level of detail appropriate. I'm not typically ready for spelling/grammar corrections at this stage. However, sometimes I'll state 'any/all feedback welcome'. In this case, feel free to give that detailed feedback, because it means I've already done a run through for that myself.
When things go wrong
How do I express frustration?
Early on, I'll try and ask questions and explain how I'm thinking. If that doesn't work or help, I get anxious, and emotionally I shut down. Often, I'll go quiet, and I'll need to take time away to make sure that anxiety doesn't escalate into panic. Sometimes I'll tell you I don't have the spoons for this discussion right now. That doesn't mean I don't ever want to talk about it–it just means I can't right now.
What's the best way to check in on me if you're concerned?
If you're worried about me, DM me on Slack. I find impromptu in-person conversations to be distressing, other than from a couple of people. Don't touch me without warning, because if I'm struggling, I'm hypersensitive to touch.
What's the best way to provide help?
Offer to talk (but don't be offended if I don't want to). Send cute cat pics.
Andrea's communication style
Planning/Research
How do you do dreaming?
I don't allocate a lot of time for dreams. When I do, I enjoy drawing on the whiteboard at a time when the Auckland office is empty. This puts me in the comfort zone to just write whatever, erase, move things around without feeling self-conscious about the whole process.
How do you prefer to work on new ideas?
In the context of data team work, I enjoy structuring the idea's framework into a Google Sheet (or Excel if it needs proper formulas), and then share it as the starting point for feedback. After having used Trello for a couple of years now, I prefer using a Trello card as a the "meeting point" for the idea to grow. I'm conscious of the geographical distances in our team as well as the time that typing requires, so I often insist on discussing on Talky to get things moving along.
How do you like to ask for input on ideas?
I tend to ask for input quite spontaneously if it's something that is either exciting or bugging in the moment. On Slack, I generally add a couple of sentences prefaced with the word "Context:".
General office work
How do I respond to interruptions?
I'm perfectly fine with interruptions at any time, unless I'm talking on the phone or I'm attending a meeting. What's the best way to ask me for feedback? If it's something you think requires less than 5 minutes, it is OK to just grab me in person or @mention me on Slack (preferably in a public channel so the response can be seen by other team members). For anything else that requires more time, the best way is to provide context by pointing me to the Trello card for that particular task and give me an expected timeframe on when you need the feedback by. I struggle to keep an eye on Trello cards that are not on the #data board, so chances are I will either move that card to #data, or I will create a temporary card for my feedback task and merge them later.
How do I prepare for meetings?
I enjoy being prepared for meetings. Knowing the agenda and/or the overall objective of the meeting beforehand is very helpful. Whenever I need to meet with someone who doesn't work for Figure.NZ, it is important for me to know a bit about them (e.g. what interests them? how can I be most helpful to that person?)
What's the best way to give me feedback on something I've suggested?
I love detailed-oriented feedback. Any channel is fine. I tend to feel bad if you have to spend too much time writing feedback, so if my output is completely off-the-mark, it's better to just have an overall chat in person.
What things do I find challenging?
On Slack, I find it hard to balance ambient chit-chat with work-related conversation (mostly in favour of the latter). I also struggle to pick up queues on whether to check on someone's emotional wellbeing or just leave it.
What's my day-to-day Slack style?
I tend to avoid direct messages (DMs), unless it's inappropriate for the conversation to appear in public. I'm conscious of making sure that people who are not in the same room as me can absorb and respond to what's going on and what we're working on. I use Trello-Slack integration to vicariously narrate the progress of what I'm doing, but I also use the check-ins/outs. I'm a slow writer. Sometimes I need to edit my Slack messages for tone and grammar after they've been posted. I'm not cool enough for acronyms / Internet slang.
What's my style when giving feedback?
I tend to use bullet points. Sometimes I forget to provide an initial overall reaction, so please do remind me to do so. :please:
How does information need to be structured for you to get the most out of it? (Context, ideas, purpose etc)
Background
Ideal outcome
My role in achieving that outcome
Timeframes
What's the best way to get an update on work?
Just ask me in any format. If you were expecting me to have something ready for you at that point, please do let me know so we can figure out together whether I've missed a piece of the conversation and how I can sort out the situation ASAP.
Writing
How do I write?
Do we really need to open this can of worms?
I use lists as aids to get the content out of my head. Ever-evolving documents (such as how-to guides) are closer to my comfort zone as I feel I can improve on them over a long period of time. In external communications I tend to be factual, however I use smiley faces and a friendly tone (that's where my customer service experience pays off).
What sort of editing do I prefer and when?
Being quite a sterile writer, I'm happy for anyone to jump in and improve on the style and grammar after I've laid out the key concepts I need to get across. If I'm struggling to get something written coherently, I will kindly ask for help and not take any offence regardless of the nature of the edit. I appreciate being asked for a final sense-check near completion to make sure the intended meaning hasn't been lost in the process.
When things go wrong
How do I express frustration?
My facial expression tends to reveal whether I'm upset/frustrated or generally happy. I believe Slack is a pretty poor medium to let any work-related frustration out, so in the rare instances of frustration I would distance myself from Slack and focus on productive work instead.
What's the best way to check in on me if you're concerned?
Ping me on a Slack message and offer to talk the next day, when the frustration is likely to have been subsided.
What's the best way to provide help?
I appreciate hearing another person's point of view in relation to that particular situation.
Nigel's communication style
You can read Nigel's communication style on Slack.
Ngapera's communication style
Planning/Research
How do I do dreaming?
Usually alone and usually late at night is when I feel I am most creative or open to dreaming, but sometimes ideas hit me after a conversation or after reading articles etc, and I find I need to go and write random thoughts down. Then I do like to mind map or draw out my thoughts so it makes sense to me visually. Once I have gathered my thoughts then I tend to read up on it and I also like to talk through them informally with people I trust.
How do I prefer to work on new ideas?
It depends on what the new idea is, but I tend to like working with others on new ideas and hashing out solutions and/or creative ideas. I am fairly open to feedback and input. I do like to formulate a plan, but mostly just to keep from being sidetracked.
How do I like to ask for input on ideas?
I try to be respectful of others time and set up a time to sit down and have a discussion. I find myself that I need to be focussed when helping others on ideas (as opposed to being asked on the fly). But I do tend to find a discussion platform works well as it gives me context or the ability to ask further questions.
General office work
How do I respond to interruptions?
I am pretty malleable by nature, so don't tend to mind being interrupted, also I am very used to it! The only time I would get mildly upset is if I had a major deadline, in which case I would probably work from home or let people know anyway.
What's the best way to ask me for feedback?
Just ask me! And let me know when you need feedback by so I can make sure I get it done in a timely fashion.
How do I prepare for meetings?
Depends on the nature of the meeting, but I always read up on the person I am meeting with to try and understand their role and which company they are from. I like to try and find common ground which I find helps with relationships. If I have requested the meeting I always try and send a brief overview of why I want to meet and any info that may be helpful to them.
What's the best way to give me feedback on something I've suggested?
I am very open to feedback, and even criticism, so don't have any preference as to how I receive it. I'd rather have honest feedback than proceed with something that isn't up to scratch or wanted.
What things do I find challenging?
I find it challenging to work in an environment where the team isn't working well together. I am pretty good at finding wrinkles early on, and my intuition is to want to iron out wrinkles, sans conflict. When a team is working well together and is productive it's such a great feeling, so anything that upsets that flow is important to me to sort out.
What's my day-to-day Slack style?
Using Slack on the daily is fairly new to me as I have only really used in a project management sense prior to this role. I am learning the ins and outs of Slack, and am actually really enjoying learning how to use it as tool for remote learning and communication. I love emojis and wit so I enjoy the Slack banter.
What's my style when giving feedback?
Open and honest. Sometimes I like to write my feedback as opposed to giving it right away. I always find I err on the side of caution with written feedback as I have found in the past people can be offended easily. I always try to give feedback constructively vs critically.
How does information need to be structured for me to get the most out of it? (Context etc, ideas, purpose etc)
I will generally take in information any way it comes and I am not afraid to ask questions if I don't understand things. But I do really appreciate context and knowing the purpose etc. I really appreciate when information is presented simply, even when it is complex!
What's the best way to get an update on work?
Ping me via Slack or book in a 10 min catch up.
What's the best way to get hold of me in a hurry?
Text message me.
Writing
How do I write?
Depends what I am writing and who I am writing to! Though I tend to sketch out a plan and try and work within that. I generally tend to write the way I speak and I aim for simple and clear. I can tend to get a bit wordy and fluffy descriptively, so I always edit and see if I can cut things back or ensure that the tone and message are right.
What sort of editing do I prefer and when?
Any! I just really appreciate any editing feedback and input, and especially when it comes to grammar etc. I tend to be more concerned with the overall piece of work and not worry about the finer details. Unless I really need to be across the finer details in which case I will focus energy on that.
When things go wrong.
How do I express frustration?
Usually with a big grrr or a loud sigh! I am quite an animated being so it's not too hard to tell when I am frustrated. It takes quite a lot for me to lose my cool though. Sometimes I may let an f-bomb slip, woops! But not that often.
What's the best way to check in on me if you're concerned?
PM me.
What's the best way to provide help?
Just ask and I will be sure to let you know. Most of the time a simple 'Are you okay? Is there anything I can help with?' will suffice.
Rob's communication style
You can read Rob's communication style on Slack.
How do we manage passwords?
Figure.NZ uses 1Password for Teams to securely store and share logins and password information. As a Figure.NZ employee, we will pay for a 1Password account for you to use.
When you join Figure.NZ, you will receive an invitation to sign up for 1Password for Teams. By creating an account, you gain access to the services we use.
The signup process works as follows:
You receive a 1Password invitation.
You create your 1Password account.
You install 1Password apps on your computer and phone.
We share some password vaults with you.
Password vaults at Figure.NZ are divided by team, in the same way that we use Slack and other tools. Depending on your job, you will receive access to vaults such as Communications, Product, Development, etc. If you need access to another service, just let us know.
Your 1Password for Teams account includes a private password vault, and we encourage you to use this for your personal logins, even if you don't intend to share them with us. Improving your personal security reduces the risk of your computer or accounts being compromised, which in turn improves our organisational security as well.
When you leave Figure.NZ, we will remove your access to work-related items, but we will not restrict your access to your personal items. We will continue to pay for your 1Password account for three months after your leaving date, to give you time to export your personal data.
How do I suggest ideas or report issues?
The Product and Dev teams always want to know your ideas and issues with Grace, the Figure.NZ website, and Tohu.
When you have an idea about something new and cool, or encounter something in Grace, the Figure.NZ website, or Tohu that is wrong, not working as you think it should be, we want to know.
Reporting an issue or idea
Urgent issues
If the issue is stopping you doing your job right now, we want to know about it immediately. We don't want to delay you if you can't get any work done. This includes things like not being able to publish data, complete an extraction or a migration, Grace or the website crashing, and more. Tell us in the channel below:
Grace: #development
Website: #product
Tohu: #organisation
It's important you discuss your issue in these channels, rather than in your own or by DMing a developer or product team member. This is because we need to make sure everyone in development, product, and operations is aware of the issue.
If we decide it's an urgent bug, we'll start working on it straight away. If it turns out it's less urgent, we'll create an issue report for you in GitHub following the process below.
Other issues or ideas
If your issue isn't stopping your from doing your job, or you want to suggest an idea, please report the problem by going to one of these pages:
Choose the right page for the system you're reporting a problem with. You can report any kind of problem: it's the right place for spelling mistakes, feature suggestions, and even serious bugs.
If GitHub gives you an error, log in and try again.
These pages only have three things you need to provide:
The name of the problem
What's wrong
Suggestions for fixing it (optional)
We've worked hard to make this very quick and simple. We don't need to know your lawnmower serial number to get things fixed.
As soon as you fill out that form, the people in the right channel will be notified. They'll take responsibility for the problem you've found and manage it. Depending on what you found or suggested, they may assign it back to you for feedback, or come ask you for more information.
All of the known problems are periodically reviewed by the #development and #product teams, and the "OK to fix" tag will be applied. Any problems that have this tag will get fixed in our scheduled maintenance time.
Very occasionally, a problem may not get this tag. This means you've found something that is already a part of some larger piece of work. The #product or #development team can withhold the "OK to fix" tag for this reason, but someone will tell you this has happened.
More about suggesting ideas
We want to hear all about your ideas, especially the middle-of-the-night brainwaves and the things that make you scream into your pillow.
The thing that helps us solve your problems and bring your ideas to life the most is understanding why you care about this. We want to understand the problem you're trying to solve or the opportunity you've seen. This can sometimes be easier and more helpful than trying to describe a solution!
We want to know why you want to change something. What's the opportunity? What can't you do that you want to be able to do, and why. The more specific you are with examples, the better. In fact, generalisations aren't very helpful at all, because we need to be able to get into your world and understand exactly what you're trying to achieve.
Sometimes we'll need to pick your brains a bit to fully understand what the core intention is of your request. When we're building software, there's lots of underlying and hidden complexity that drives the things you see on the surface. This means that the solution that seems to be obvious might not always work.
We really, really value your perspective on the problems you see, and your stories about what you were trying to do, and what got in the way.
Managing our relationships with partners and others
We use 2 tools for managing our relationships with partners and other external contacts: Solve CRM and the Partners Trello board.
We use the tools for different things.
Solve
Holding contact details of Companies and Contacts (note: we use the word "Companies" to be consistent with Solve's language, but in reality we're talking about a mix of companies, government agencies, NGOs and other organisations).
Tracking interactions with Companies and Contacts. This is done by adding interactions manually, and by bcc'ing Solve with related emails.
Tracking and managing tasks we're doing for partners and other Contacts that don't meet the specifications below for the Partners Trello board. Some examples of tasks we have in Solve are:

Sending a reminder email to a Contact to follow up on their action.
Noting when to do a regular check in with a Contact.
Creating an activity plan.
Partners Trello board
Repetitive activities for our group of Figure's 20 partners – for example, sending Figure's Digest emails.
Activities that involve interaction between multiple parties – for example, setting up workshops.
Big activities for partners but that aren't related to specific contacts or companies – for example, setting up Solve documentation.
Strategic activities that may or may not involve specific contacts – for example, looking at the legislation that Callaghan uses for funding.
Using Solve
Adding Companies and Contacts
When adding a new Contact, first set up the Company they're affiliated with.
If they're not affiliated with any Company, you can go ahead and set up their Contact entry.
Setting up a Company
First, check to see if the Company already has an entry in Solve by searching for multiple names that could have been used to set it up.
If the Company already has an entry in Solve, go directly to adding any relevant Contacts and connect them to that Company entry.
If the Company does not already have an entry in Solve, go to the Home view (represented by an icon of a house) and select "Add a new record".
Select "Company".
Make sure the "Owner" of every entry is "Figure.NZ".
Fill out the fields in the following way:

Company Name: Use the most commonly referred to name – for example, "Inland Revenue" not "IR"; "ATEED" rather than the organisation name written out in full.
Other Names: Add all other names you can think of that people may use to search for this organisation.
Website: Copy and paste the URL from the company's main website.
Background: Write a short description of the relationship. This should be updated and added to over time, but kept very brief. The purpose of this is for anyone else in our team now or in the future to be able to look at the summary and understand our current relationship with that Company at a high level.
Logo: Click the camera icon and upload a hi-res and coloured version of the organisation's logo. Use a logo that is on a white background and make sure it looks similar to the other logos when you upload it.
Click the 3 dots at the top right of the Company profile and select "Track linked emails".
In the Company entry, add relevant Tags under the Profile tab:

F20: Those committed to Figure's 20.
Active: All organisations we're actively trying to get committed to some kind of revenue relationship.
Pipeline: Those we aren't actively working with, but may have potential down the track for a commercial relationship.
Customer: All organisations who have paid us for something before, but aren't in one of the other categories.
Collaborator: Organisations we collaborate with, without money changing hands.
Community Resilience: Organisations related to this big project.
Declined: Those who have declined engaging with us in a partnership and don't seem likely to be interested in the future.

After you've created a Company, set up and link any Contacts we have with that Company. In particular, make sure you add their work email address so email exchanges can be tracked in Solve by bcc'ing the set-up email.
Setting up a Contact
First, check to see if the Contact already has an entry in Solve by searching their name.
If the Contact does not already have an entry in Solve, go to the Home view on (represented by an icon of a house) and select 'Add a new record'.
Select "Contact".
Make sure the "Owner" of every entry is "Figure.NZ".
Fill out the following fields:

Salutation: Keep blank unless a special salutation is appropriate such as "Doctor" or "Professor". We don't assign "Mr", "Mrs", "Ms", or "Miss" unless specifically preferred.
First Name and Last Name: Please make sure you spell these correctly.
Job Title: Write this in full – i.e. "Chief Executive Officer", not "CEO".
Related Company: Connect to related Company.
Relationship: Assign "Main Contact" if appropriate. There may be more than one Main Contact for a Company.
Business Email: Contact's work email address.
Mobile Phone: Use the format "+64212342374" – i.e. country code first, and no spaces.
LinkedIn: Link to Contact's LinkedIn profile.
Related Contact: Connect the Contact to other Contacts here if appropriate, such as their spouse.
Background: Add other notes about the Contact here.
Profile Photo: On the Contact's main Solve profile page, click the camera icon and upload a photo of the Contact, ideally from their LinkedIn profile.
Click the 3 dots at the top right of the Contact profile and select "Track linked emails".
In the Company entry, add relevant Tags under the Profile tab:

Interested in joining our team: For someone that we should include in any recruiting rounds.
Interested in user testing: People we can contact for testing.
Logging interactions
Track all interactions with Companies and Contacts in the Timeline tab. Always use the Company entry as the place to log interactions (except for non-associated Contacts) – this is the best way to build up a timeline of events and gives context to elaborate on the relationship we have with a Company.
Whenever you email people who are entered in Solve, bcc the address figure.nz@Figure.NZ.solve360.com – all of the emails will then automatically track under the Timeline tab.
For any other interaction, such as calls and meetings, select "Log an interaction" and add:
A brief description summarising the interaction e.g. "Call with Annette about data literacy".
The date (and time if appropriate) of when it occurred.
All notes in the text area at the bottom.
Adding tasks
Always use the Company entry as the place to add tasks (except for non-associated Contacts) – this is the best way to create a history of all that we've done with a Company.
Under the Manage tab click the + icon and add:
Title
Description of task type
Assign to someone
Due date
Colour based on type:

Red: Urgent task
Grey: General task
Connecting Google files
In the manage tab you can also attach links to Google Drive for contracts and other important documents through the + icon. Make sure the appropriate permissions are set first.
Managing your tasks
Looking back at the 4 main navigation icons in Solve, you'll see one is an arrow going upwards. Click on this and you'll see all tasks coming through that are assigned to you.
Under the Priorities tab is where you'll find all of the tasks that you have on the go.
This is where you need to keep track of due dates and importance of tasks, add notes as you go, and then complete the tasks when they are done.
How do we do remote-first working?
We aim to work in a remote-first way, i.e., one where your choice of working location does not impact on how much you know about what is going on, or how effective you can be. This requires us all to think about how we are working, and to do things a little differently from normal. We encourage everyone to work remotely some of the time, and we all do.
The direction and guidance here is designed to minimise the amount of effort we need to spend on figuring out how we want to coordinate our work together. By operating in consistent and predictable ways, we can devote more energy to the things that matter. This guidance is about the processes (i..e, the way we work) and not the content (i.e., what we do).
Our main working tools are Slack (for communication) and Trello (for task management).
You can generally expect your co-workers to be available on Slack during normal business hours or to let you know if they won't be. Look for the green dot. Replicate what you would do if you were in the same room in writing. Say hello. Tell us you are heading out for an appointment. Show us photos of your outlook, or your cat (or horse).
Each team does things slightly differently. You can find a definition of what they do and don't do, how their Slack and Trello work, how they accept feedback and how they report back to the rest of the organisation here.
Know your workmates! Each employee has done our communications style survey to explain how they work and like to be worked with. You can find these here.
We prefer to write in public channels in Slack rather than using DMs. Individuals choose exactly where they draw the line, but the idea is that everyone benefits from being able to hear the chat of people going about their work and joining in if that is useful. That said, you don't need permission to DM someone, so if that is what you need to do, go right ahead.
For the same reason, we prefer typing over talking in the office. It isn't easy to imagine when working remotely, but sometimes the office has five people in it but is silent (apart from all the tapping and the occasional laugh/snort).
Anyone can raise a paddle at any time if they are concerned about the direction of something, regardless of whether it's in their domain or not, and everyone available will stop and address the problem (we've had about three of these to date).
Slack and Trello specifically
Slack is the operating system for our business. It's where we communicate and where we get notified for everything.
There is a channel for each team (#governance is a private channel for the Board) plus #general for general discussion and #announcements for announcements.
Trello is our main workflow tool. Each team has a Trello board, which represents a Kanban board for that team, filled with cards representing the work the team is doing. Each board also has a manager, responsible for keeping it shipshape.
The purpose of the board is to:
1/ Enable the team to work together effectively with a minimum of "can you tell me what is happening with that" conversation, and
2/ Enable anyone in Figure to see what your team is up to and the status of those things by looking at the board.
Teams have different approaches to exactly how they set up and use their Trello board so that it works for them. But they must always enable those two purposes.
We are averse to creating new boards because prioritising and visibility across boards is hard. We have had special boards in the past for temporary processes (like recruitment).
Trello is just a workflow tool. It is a good place to record and track what is agreed as the way to proceed, but less good as a place for debating what to do. Related: there is no need to justify why a task is being pursued on a card.
Trello is integrated into Slack. Changes to Trello cards are summarised automatically into the relevant Slack channel so that people can see what is changing and follow up if they want to.
Tell me the general remote-first setup
Setup
You should be in at least the Trello boards and Slack channels for the teams you are in, plus #general and #announcements.
You should have Slack alerts set for at least your name or nickname (if it is not the same as your username), for your Trello username (if it is different), and for "paddle". Some people have notifications for their initials too.
Checkin and checkout
Check in in #general at the start of the day with what tasks you expect to be doing and where you'll be. At the end of the day, check out and update everyone with what you did.
The purpose of the checkin is to communicate to others the things that you are aware need to be done by you in the next day or so. And the purpose of the checkout is to let others know what has been advanced.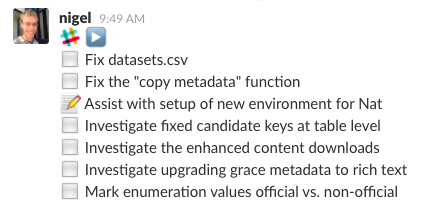 Checkin is intended to cover a single day and be an aspiration, i.e., a helpful guide to what you plan to get up to at the time that you make the list. It is not a die in a ditch promise that these things will definitely happen. If some things carry over or don't get done, it is no drama.
If there is anything you particularly need from others, feel free to mention it too. Are you waiting on any answers, do you need feedback, are you blocked from making progress on anything? You can mention people in checkin to provide a low-stress reminder too, e.g., Talk with Amy about priorities at 10am.
There is no requirement to construct your checkin from your Trello cards, but feel free to if it works for you. Please avoid saying " Do the cards with my face on them": it doesn't tell others what you will be up to.
If you do things that were not in your checkin through the day, just pop them in your checkout. There is no need to identify that they were unexpected at the beginning.
Checkin and checkout isn't how we measure productivity or track tasks. So don't think that a long list is better than a short one, or that if you get side-swiped by the world and end up doing none of it, that that is a problem.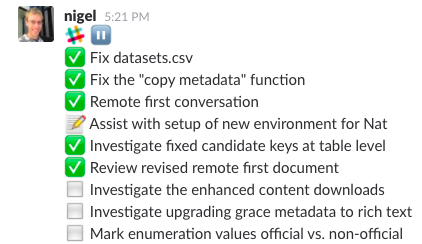 You might want to star your checkin message or use your personal Slack DM channel to create it so that you can re-use it when creating your checkout at the end of the day.
Another pro-tip: you can create the checkin in your personal Slack DM channel and add items or change : into as you go through the day. Then you can just copy and paste the completed checkout into #general at the end of the day.
Alert, alert
It is helpful to respond to mentions as soon as you can.
If you are online, it is also helpful to set expectations about when you expect to get to things either in Slack or in Trello if you can not get to them straight away or by the requested time. One easy method for casual requests is to react with to something that you have seen in Slack so the requester knows you will get to it.
There is no expectation you should interrupt what you are doing for someone else's request if it is not urgent.
And if you are offline, mentions are just an FYI until you are back. This will probably take a while to get used to when you first start. You don't need to be always looking at your phone to see what new requests have arrived: if folks know you aren't there, then they can wait until you are.
Everyone is responsible for managing their own notifications, e.g., you might find that some people snooze them outside of their work hours. If you need to get hold of someone in a hurry and you aren't sure, consult the communication survey for their preferred method.
To minimise distractions, you might want to mute Slack channels that you don't actively follow. That way you can minimise any FOMO from the way it highlights channels with new messages.
Please do not use R-ob as a way to refer to Rob without notifying him. Even if you are really sure that Rob already knows about the thing you are mentioning him for or you don't want his attention. The practical implication of this is that you will sometimes be mentioned for something you already know about.
If you see someone raise a paddle, you're expected to stop immediately and listen and help. This is an all-hands on deck, pay attention right now situation. As a group, we'll decide what immediate action needs to be taken, and form a plan for next steps, which might involve making Trello cards for new tasks.
If you are not on Slack right at the time and miss the paddle, check in once you see it. If the issue is not resolved, stay with it until it is.
Meetings
Mention upcoming internal or external meetings or calls in your checkin, e.g., Data team meeting 10am. Afterwards briefly summarise meetings or calls and list their actions. Do this even if you think it does not affect anyone else internally. Sounds weird but it helps.
The best place for a meeting summary is Slack (either inline, with threads, or as a Post, depending on how much detail you need). You can put links to the Slack conversation or Post on a relevant Trello card if that is helpful too.
If you are in an office conversation in-person, then mention what is being said in Slack at the time or write a short note afterwards. This is always important but especially if something happens on Slack that people working remotely would have no context for.
If you call a meeting, the default expectation is that you will write up the results for everyone. Do be sure and schedule enough time to cover both your meeting and the writeup (because otherwise your life is going to be filled with suckful historic meeting writeup tasks and no one wants that).
Same with Slack meetings as with meetings in person. Whoever calls a meeting by default makes cards for agreed new tasks. If you think something is important to turn into actions but the person running things does not seem action-oriented enough, then do feel free to raise it at the time. "So, what are the actions out of this?".
If that does not happen and you think that someone other than you should do something, you can make a card in an another team's Trello inbox that will then be considered within their processes.
Here is a simple meeting report structure you might like to use:
Meeting with whom to discuss what
Date

Attendees from Figure
Attendees from other places

Any relevant background
What was discussed
What comes next
Anything else of note

Fill this out then add it to Slack as a post.
Other communications
Anyone can post in #announcements, but that channel is just for announcements. Emoji reactions are welcome but do not reply to messages posted there. Use #general for responses instead.
Recognise when it's time to go higher bandwidth. Sometimes conversations can be better resolved with a video call than by all the typing. Noticing these situations and jumping on a call is important. One rule of the thumb that might help, if you think that it would take more than ten minutes of Slack chat to discuss something or you perceive a high risk of confusion or complexity, then go high bandwidth sooner. Practise saying the words too in random situations just to get used to it: "I think we need to take this to higher bandwidth". Kinda has a sci-fi feel.
If there are several of you in the office on a video call with others who are out of the office, split up into different rooms. That way everyone gets a similar experience.
Never use email except for calendar invites, unless an external person is included. If you want to share an email with the team, post it in Slack or on the relevant Trello card.
If you have a DM conversation for whatever reason, and it ends up being a thing that could have been public, then say something about it in Slack.
There is no expectation that anyone is reading back in the Slack conversation unless they have been mentioned or there is a paddle. Feel free to read back, of course, but don't rely on someone having seen something if they have not indicated that they have seen it. Linking to a previous Slack message and mentioning someone can be super helpful if you think that they have missed something.
Anyone in a Slack channel has access to the full message history, i.e., they can go back to before they joined and read old messages.
It can be a bit tricky if more than one conversation is going on simultaneously in the same channel. You can use threads to reply to a particular message in Slack and that will keep replies together. You can also use threads for more persistent content that you want to be easily found, e.g., collecting suggestions on a topic.
If you want to chat in a smaller group about something that you'd rather keep out of a public channel, then you can make a multi-person DM channel with up to eight people in Slack. If you are in a DM with someone, and then add another person, that creates a new channel, i.e., the new person cannot see the conversation that the two of you were having before.
Okay, tell me about Trello in more detail
Layout
Tasks are represented by a card that moves from left to right across the board. The column represents the current state of the work on the card. Workflows can have many stages, and each team is free to discover and implement their own most effective workflow, but at a minimum each board needs to have:
Inbox: A place for ideas. Anyone can request work by adding cards to this column. Typically, only the manager of a board moves cards out of the Inbox.
Backlog (or To do): For cards that have all of the required information and are ready to be worked on. They represent work the team intends to do.
In Progress (or Doing): For tasks that are being actively worked on. These cards are kept up to date with checklists and comments.
Blocked: For work that cannot progress, perhaps because we are waiting on someone externally or because only one team member can action it. "Blocked" is not a criticism, just a description. It is up to each team, but one approach is for the board manager to move cards to blocked if they have not changed state within some reasonable time period.
Completed (or Done): For finished work. Experience the joy of watching it pile up. Each team reviews and then archives cards done in the previous week early the following week. To avoid creating a situation where team members feel pressured to work late, we avoid reviews at the end of the week.
In every column cards are sorted in order of approximate priority, with important things towards the top of the column and less important things further down.
Effective cards
An effective card has a short simple title and a description that clearly states an action, is assigned to a person (by adding them as a member). If necessary, it may also have a checklist that lists at least the next two or three expected steps.
If the card is a complex task, it may have a link to a document or Slack discussion that explains the background as well. You do not need to justify the existence of the task or provide full context. The idea is just that someone outside of your team can get a sense of what is being done and how it is going.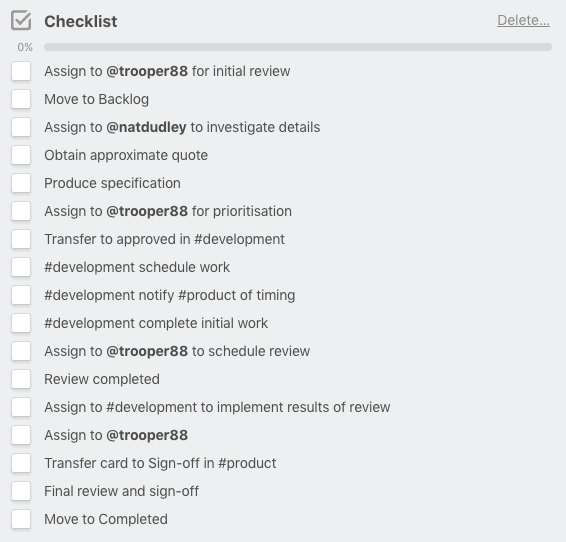 Generally, any card that is missing any of those things is improved by the board manager before it leaves the Inbox.
All cards not in the Inbox or Completed column must have at least one person's face on them at all times. Team members add and remove each other's faces as work progresses, and as cards progress they may accumulate comments, links, attachments and checkboxes as tasks are completed.
You can look at the example cards on the Product board in case that helps (and copy them over to your board).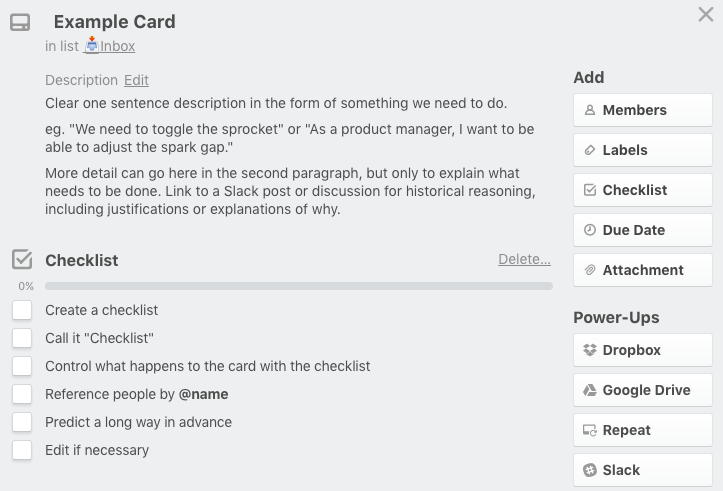 Members
We use members (faces) to quickly show who has current actions on a card. You should work on cards that have your face, and remove your face when you no longer have current actions. Make sure you then add the next person's face and mention them in a cheery comment before you leave the card. If you are not sure whose face is next, use the board manager's face to hand it back to them.
If you need some assistance from someone else on a task, add their face to a card. No other notification is required (although if your task is urgent, you'd be well advised to get in touch some other way as well). If someone adds your face to a card, treat it as a polite request to help out.
The exception to this is the Dev team: if you need help from them, go via Amy, who holds the budget for their time.
Bear in mind that some team members may use a different Trello username to their Slack username (but they will have alerts for both setup in Slack).
Also bear in mind that tag-teaming faces on a card might not always be the best way to get something done. Especially if what you want to do is have a conversation about something and decide together what to do. Stop, collaborate and listen, peops.
Due dates
We use due dates to indicate when the next step of a task needs to be completed by.
When a task also has a set date for completion of all the steps, we note this in the description, and pay special attention to keeping the due date for the next step up to date.
Use due dates, for example, where you have made a promise to someone externally. But don't add arbitrary due dates to internal work (because that reduces the overall urgency of tasks with real due dates). Rely on the prioritisation system to get these things done.
Remember that dates are not necessarily priorities: the order of the cards in the pile is the priority.
Labels
You can use labels to classify cards by type in your team. For example, the Product team has Feature cards (describing some new functionality to add), Defect cards (describing a bug to remedy), and Enhancement cards (describing an improvement to an existing feature).
Labels are not used to indicate state. For example, a card that is blocked should be moved to an appropriate column, not labelled as a "Blocked" card. Likewise, don't use labels to communicate value, e.g., "Urgent" or "Important."
There is no significance to the label colours, other than to provide a quick visual overview of the card distribution. Remember some of your team mates are colour-blind, so ask for advice if you find yourself wanting to use more than just a few standard colours.
Repetitive tasks
There are some tools to make managing repetitive tasks easier.
For tasks you do often and already understand the required process, you can create template cards. These cards hang around in the Inbox with an underscore in front of their name. To create a common task, just duplicate the template card and rename it.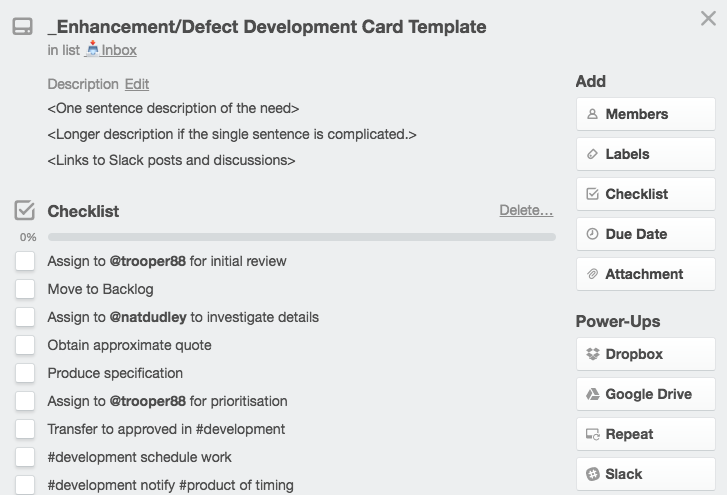 For identical tasks need to be done regularly (e.g., once a week), there's a Trello powerup that creates recurring tasks. So handy.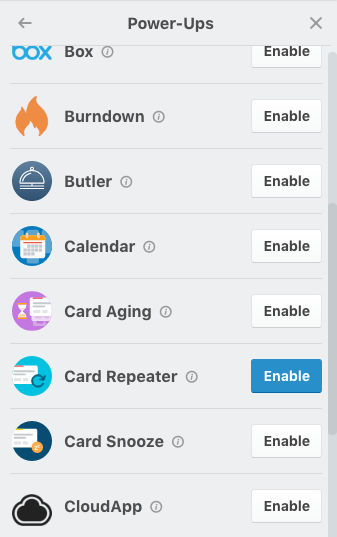 Our organisation Trello account lets anyone use powerups for free, even if your personal Trello account doesn't have them.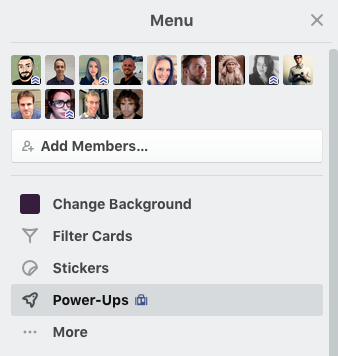 Thoughts for board managers
You are responsible for regular tending of the board. Be bold. Ask questions. Assign faces. Rewrite descriptions. Engage in discussions about priority. Move cards around.
OMG all the cards! An easy way to detect if expectations are getting out of line with delivery is to limit the number of cards permitted in some columns on your board, e.g., no more than five cards in Blocked or no more than 10 in In Progress. Exceeding these "choke" column limits should stop ongoing work and cause a review of outstanding cards and workload.
Like a fecund garden, your board will not always be perfect and the amount of time available for tending is limited. It is better to have one list for random cards that need to be sorted at some point than to have random cards spread throughout the workflow. Don't design your approach that way, but it might be helpful if the team is digging itself out of a hole.
It is helpful to remove faces from the Completed column (so that when people look at all their cards, they don't have the Completed ones cluttering things up).
How can I get emoji-literate?
Here are some conventions you might see in Slack or Trello
In Slack
for an item in your checkin
an item in your checkout that has been advanced but not completed
an item in your checkout that is completed
Also used for budget approvals
when you want to communicate that you have seen something and will respond, but not right away.
"sample size of one": this is just my personal opinion :troll: when you are trolling and want to make it obvious
for your status when you are not working (and folks should not expect you to respond). Don't use status other than this because who knows what that icon means and it is easy to forget to update it :thumbnotyellow: i support this, i like this, this looks good to me, sweet as :airplane_departure: i am on a plane! :airplane_arriving: i am safely back in the grip of gravity :ie: When you are coming in late to a conversation but want to add something :sassy: Is our way of cheekily delegating work
I agree with the point made above :slack::play: at start of checkin - indicates you are starting the day :slack::pause: When checking out - indicates you are finished for the day
Shortcuts to get colour ids ?Blurple ?Slate
In Trello
Some teams use symbols to communicate other things about their cards, for example:
Whale. A whale card represents a lot of work, like a major project.
Quick win. Quick win cards are the opposite: A small task with obvious benefits.
New data being processed
Data is being updated
Also note that "hats-off" means asking people to consider an issue from the wider organisational point of view, rather than hats-on from the perspective of their own job or team
What documents types should I use?
The tools that you can expect everyone else to have access to are Slack, Trello, a markdown editor, Dropbox and Google Docs plus a web browser (which can view lots of basic file formats including PDF, PNG and JPG).
The basic rules for sharing with others are:
Use Slack for everything you can. If you want to write offline, then markdown pasted later on into a Slack post makes for a nicely formatted document that is easily read, shared and searched-for. Think of the historians!
Use something else if you have a reason to. Google Docs are great for simultaneous editing and for revisions or feedback on particular words (whereas Slack posts only have one editor at a time, only allow general comments and do not show revisions). Word is no good for internal collaboration, but is helpful for publishing and essential for external bods. Be sure and make Google Docs from your Figure.NZ account.
For tabular data, we like CSV format for sharing, but in the real world Google Sheets and Excel are also great.
Documents coming from outside will obviously be in a wider variety of formats.
If you are not sharing with others, then by all means use any tool that makes sense to you.
Give me some advice on my specific situation
This is our best accumulated advice on how to use our remote-first approach for some specific situations. We add to this list overtime as we learn more. If you have a question you think needs an answer here, put it on this thread. We will periodically review the documentation and answer new questions.
How do I figure out what to do next?
In Trello, all the cards are the same size, and getting a view of actions across boards is not super easy. The best solution: click 'Show Menu > Cards'. This will show you all the cards with your face on them and you can order the set by board. It is helpful for seeing what is depending on you across all of Trello.
On any individual board, you can filter just to show cards with your face on them by pressing Q.
Check the Blocked columns for cards with your face before you check anything else.
If you have a choice, take a more urgent card from the top of a column rather than a less important card from further down. And bear in mind the quarterly objectives as well, for cards that are related to those.
It is up to you to choose amongst the tasks with your face on them. If you are in doubt about priority or think things could be better done another way, ask.
How do I know when my thing will get done?
The corollary of the fact that people set their own priorities within the stack of things allocated to them, is that you can't always know when something will be done by someone else.
If there is a defined end-date that you have to meet, make sure it is on the card. If you want to define an internal date, then do it in discussion with those involved in the work. Within your team you might want to give more guidance on how folks should prioritise between cards.
How can I convey tone?
For Trello, ensure your card wording is positive and constructive. Board managers are encouraged to revise the wording on cards to improve tone and clarity.
In Slack, we have a general principle of assuming good intentions from your workmates. But if you are concerned that your friendly inquiry or request will be misunderstood, you could try directly communicating your tone. Emoji are your friends.
Bear in mind in general that remote working means a lot of disembodied interactions. Following these conventions is not a substitute for being kind or for getting to know your workmates.
How can I deal with ongoing tasks in Trello?
There is no special behaviour for ongoing tasks. A task does not have to be done quickly, so if it takes time, it takes time.
Cards are always in some state (reflected by the column that they are in), have some priority (reflected by where they sit in the pile), and have some level of completion (reflected in updates on the card).
How do I deal with a card that requires multiple actions from different people?
One approach is to make a card with a check list for each action that includes the owner of that action in the text. Order the checklist roughly by the order that things need to be done in. Make sure the face of any person with current actions to do is on the card.
You could also make multiple lists on a card, with a top checklist to track progress on the overall task and other checklists on the card for more detailed or subsidiary pieces.
Should I make one card or lots of cards?
There is a sense of achievement in moving things to Completed, so you might want to keep your cards small enough to be mobile over some reasonable timeframe.
One potentially helpful rule is to make cards for tasks that will take more than a few minutes, but don't make them so big that it takes more than a couple of hours to make any reportable progress on them.
There is also a logic in keeping discrete pieces of work as separate cards.
Sometimes it can be helpful to make meta-cards to track overall progress on a project, with each step having its own cards create separately. Product tracks progress on a bigger task by using checklists that show the steps to completion.
Try to avoid using these meta-cards if you can think of a better way, just because the updating of multiple cards gets tricky, but it can be helpful especially to enable an at-a-glance view of overall project progress.
Same story for parallel tasks that are being progressed on more than one board at once, i.e., you can do it, but it can easily be more trouble than it is worth.
What if I want to set different dates for different tasks on a card?
You can't do this directly, although you can always write in text on the card the relevant dates.
Our convention is to set the card date as the deadline for the next task.
You can also write in the description any final date that a whole card needs to be done by. (You can achieve the same effect by using the custom fields Power Up and creating a custom field for the overall card due date. To get into this magic, click 'Show Menu > Powerups'.)
What if my task really just involves me?
You'd be surprised at how often that little thing that you are doing is of interest to others.
If you create cards even for things that only you are working on, other people can see where things are at. This sounds laborious right now, but once you get good at this stuff, it will seem weird to do it any other way.
Bonus remote-first points if you write notes to yourself as you go in open Slack channels.
Should I use Trello or Slack?
If your update changes something in the workflow, then put it in Trello. If you want to ask a question or check on something or know more, use Slack. If in doubt, use Slack. Remember that Trello card updates go into Slack too, and that you can put a link to a Slack conversation, thread or post on a Trello card.